---
Here's to The Night You're Graduating
---
So the time has come. You are finally graduating and the whole world is at your fingertips. Either you've finished high school and you'll be taking some time off before pursuing higher education or you've finished your university degree and the prospect of finding a 'real job' is before you. You may also be moving on to another round of school such as, a certificate, a masters degree or diploma as you've found out the sad truth: That a university degree is not enough to get the job of your dreams. Either way, there are some things you should know before you move on to the future:
In my high school days there was a song called "Here's to the Night" by a band called Eve6. This was not the song my grad class chose as our grad song but it is the song I think of when I look back on my high school experience. "Here's to the nights we felt alive, here's to the tears you knew you'd cry. Here's to goodbye, tomorrow's gonna come too soon."
http://www.youtube.com/watch?v=3R6G9-hWiJc
My first advice to grads is to select a song that represents your high school or university days, so that in the years to come you'll feel nostalgia for your past memories. I can assure you that despite all the studying, tests and drama with your friends or significant others, you will miss those days and look back on them with fondness. You may also look back to how simple things used to be for you.
My next bit of advice is for high school students. It will be really tempting to not continue your education by not enrolling at a University, but I strongly encourage you to do so. You certainly need some type of higher education, such as: A diploma, a general university degree, a technical school or a certificate program. You need this to get yourself a job that pays well enough for you to live on. Most of us  don't want to be a waitress or work at McDonalds for the rest of our lives. Each one of you has so much potential, don't let it go to waste! Not only will higher education get you a better job, but it will also teach you how to think and reason logically; to look at the world in a way you have not seen before. You may not realize this at first, but as you start to work on your higher education the great amount of things you will need to know will become apparent. Lastly, learn how much beer or hard liquor you can handle before you go on your first University pub crawl or drinking event. Don't be that person who is throwing up all over the place!
For University students, who are graduating, do not be discouraged if you do not get a job immediately, because it often takes months and this is true for anyone trying to find a job. Be presentable and dress up for your job interview. Also make sure to research things such as possible: Job interview questions, dress codes, general company information, salaries and interview etiquette ahead of time. This will make you feel a lot more prepared for your interview. Talk to your Career Councillor before you leave university and get him or her to help you research possible jobs and point you in the right direction. According to the article Canada Loses 54, 500 Jobs in March  there was a "7.2 %" unemployment rate in March (CTV News). The CIBC remarks, that Canadians shouldn't worry because the economy is expected to have a "modest but still positive" job growth. The job rate is growing at a rate of "5000" to "10 000" jobs a month. So although the economy is slow right now, job rates are still expected to increase!
Finally, do not fear going back to school to learn more or to change your direction and start a new career. Upgrading is a must and more than ever studies have shown that the younger generation will switch jobs or even careers several times throughout their working life. Sometimes you cannot do the job you want to do without some technical training for it. A university degree doesn't necessarily mean you will get the job of your dreams right out of school, but it will definitely give you the upper hand over those without one. A lot of times you have to work your way up to the top in a company or you may realize that you need additional training. If you are lucky, you could find yourself at a company that will pay for additional training and job development – a job perk to look for!
So there you have it: That's my advice to graduates. I hope it's helpful and that you find your way in life as it brings on new challenges and experiences. Remember to enjoy every moment!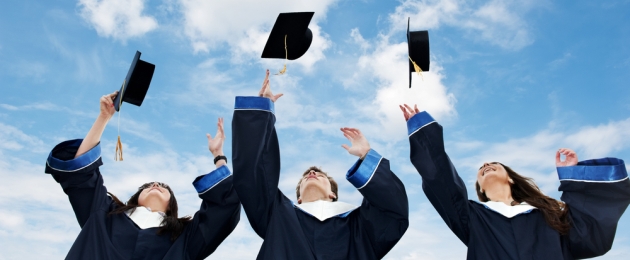 ---